INTRODUCTION:
Park Avenue Housing Scheme is an LDA-approved project offering both residential and commercial plots on installments as well as on cash. The society is located just 2 minutes' drive away from LDA Interchange, Ring Road, Lahore.
Residential plots of 3, 5, 6, 8, 10 Marla, and 1 Kanal are available on easy installments with 20% down payment. Moreover, a Food Steet is on its way to be launched by the end of this year.
Al Noor Orchard is located at 3 km from Faizpur Interchange, opposite Al-Raziq Garden, and 3 km from Al-Jalil Garden. The society's position map will inform you that it is precisely located at Main Bazar Sharaqpur Sharif Road, connecting Lahore to Jaranwala Road. The company has close access to the Babu Sabu Interchange, situated right in the middle of the Karachi-Lahore Motorway and Faizpur interchange, while Ravi Toll Plaza is at a distance of 1.5 km from the site.
COMPARISON:
If you are looking for plots on installment in Lahore, you must have discovered there are hundreds of options to choose from. This process can become confsuing and tiring real quick as Lahore is full of housing schemes offering plots for sale or plots on installments.
So, we are here to provide you some helpful comparison blogs to help you make a better decision for buying 5 Marla plots. This blog will be a comparison between Park Avenue Housing Scheme and Al Noor Orchard. Both of the housing societies will be compared on the basis of payment plans, location significance, plots size offerings, amenities, and developmental pace. If Al Noor Orchard is not among your potential choices, you can look for other blogs on our site, there are a lot more comparative blogs to help you in booking 5 Marla plots on installment in the most suitable housing scheme. Here are the basic amenities provided by both societies;
Park Avenue
Al Noor Orchard
LDA Approval
✅
⛔
Project by
Musa Builders
Al Jalil Developers
Location
2-minute drive from

LDA City interchange

Ring Road, Lahore.

3 km from Faizpur Interchange, Lahore.
Commercial Plots
✅
✅
Residential Plots
✅
✅
Sewerage
✅
✅
Electricity
✅
✅
Water Supply
✅
✅
Sui Gas*
✅
⛔
Boundary Wall
✅
✅
Security Staff
✅
✅
Parks
✅
✅
Miyawaki Forest
✅
⛔
25% Land covered with trees
✅
⛔
*Park Avenue Housing Scheme is LDA Approved and thus will have a Sui Gas connection once 20% of the total number of plot holders begin to reside in the society.
RESIDENTIAL PLOT SIZES:
| | |
| --- | --- |
| Park Avenue | Al Noor Orchard |
| 3 Marla | 3 Marla |
| 5 Marla | 5 Marla |
| 6 Marla | 10 Marla |
| 8 Marla | 11 Marla |
| 1o Marla | 1 Kanal |
| 1 Kanal | |
COMMERCIAL PLOT SIZES:
| | |
| --- | --- |
| Park Avenue | Al Noor Orchard |
| 2 Marla (Sector Shops) | 4 Marla |
| 2.6 Marla (Sector Shops) | |
| 5 Marla | |
RESIDENTIAL PAYMENT PLANS:
Park Avenue: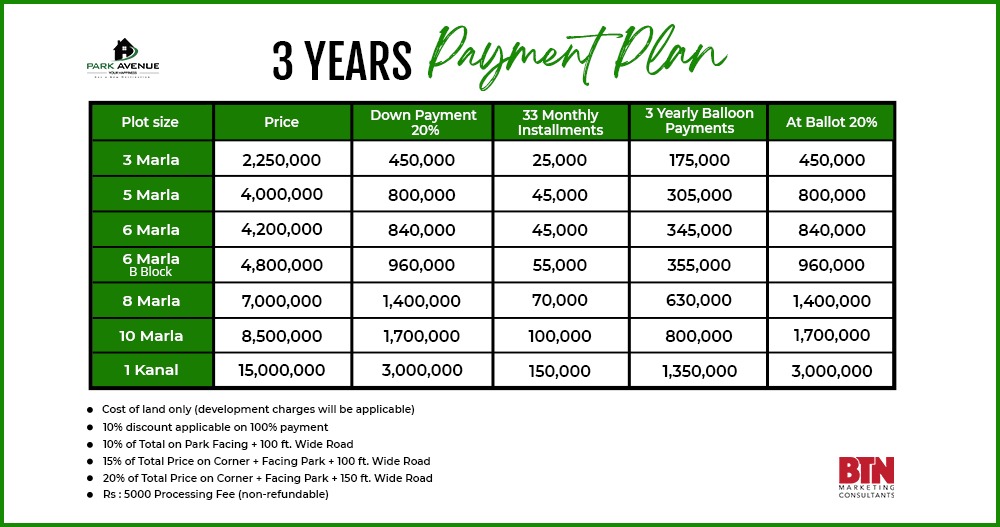 Al Noor Orchard: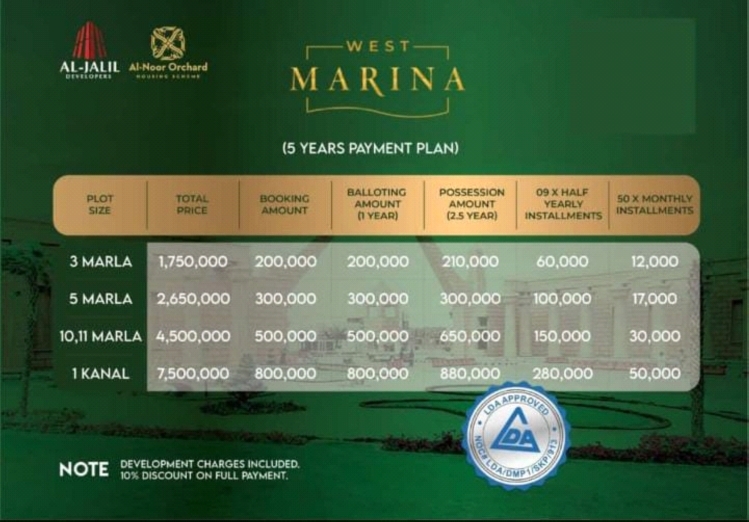 COMMERCIAL PAYMENT PLANS:
Park Avenue: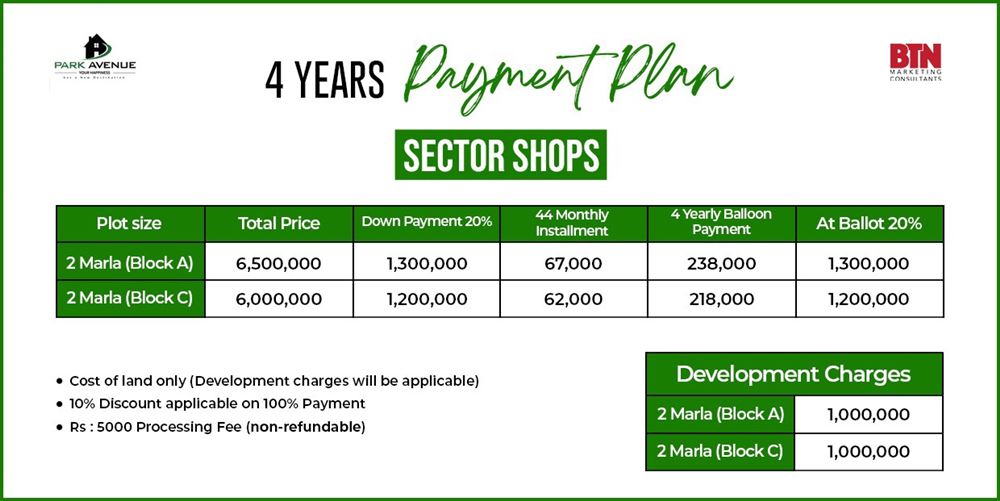 Al Noor Orchard:
| | | | | | | |
| --- | --- | --- | --- | --- | --- | --- |
| Plot Size | Total Price | Booking Amount | 50x Monthly Installments | 10x Half Yearly Installments | Balloting within 1.5 years | Possession within 3 year |
| 4 Marla | 9,000,000 | 1,500,000 | 80,000 | 130,000 | 1,200,000 | 1,000,000 |
CONCLUSION:
Al Noor Orchard claims to be completely LDA Approved all over its social media and website. It basically claims to be one of the biggest LDA Approved societies. As we couldn't find any NOC number or document anywhere regarding its approval, we took the matter in our own hands and did some digging. Turns out. Al Noor Orchard is not LDA Approved.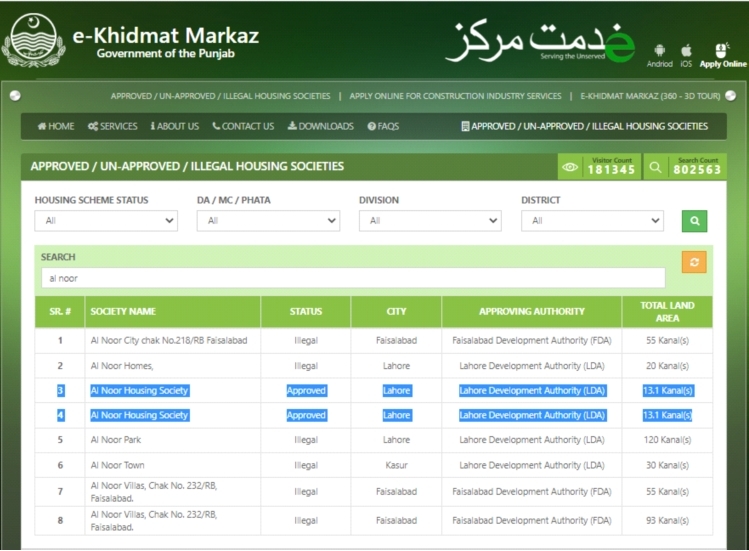 Only 2 societies by the name of Al Noor could be found in the list that are located in Lahore. First of all, the name in the list is not Al Noor Orchard but Al Noor Housing Society. Secondly, even if it was Al Noor only a total of 26.2 Kanal land has been LDA Approved which doesn't sound like a lot. So, Al Noor Orchard is either not LDA Approved at all or just 26 Kanal of its whole land is.
On the other hand, Park Avenue is completely LDA Approved and its original scanned NOC is posted all over its social media platforms as well as the society website so that it is easier for potential buyers to access it. (https://parkavenue.pk/lda-approval/)
All in all, Park Avenue is a much safer investment option for buying 5 Marla plots in comparison with Al Noor Orchard. Aside from the LDA Approval, which is extremely important, the amenities provided by Park Avenue and Al Noor Orchard are all the same and Al Noor Orchard is still a lot more expensive than Park Avenue. Therefore, Park Avenue's LDA Approval, similar amenities and affordable payment plans make it much more suitable for getting plots on installments in Lahore than Al Noor Orchard.