INTRODUCTION:
Park Avenue Housing Scheme is an LDA-approved project with an approved layout plan offering both residential and commercial plots. It currently consists of 3 sectors along with an LDA Structured Road which runs through the society.
Located a mere 2 minutes' drive away from LDA Interchange, Ring Road, Lahore, Park Avenue Housing Society is truly the new destination for your happiness.
Just a 4 km drive from the Ring Road Halloki Interchange and a simple 15 minutes commute from the Allama Iqbal International Airport brings you to the gates of this stellar housing society which offers residential plots of 3, 5, 6, 8, 10 Marla, and 1 Kanal on easy installments.
Dream Gardens Lahore is located at Ali Akbar Road which is close to Raiwind Road. Bhoptian Chowk and Defence Road are also very close to this society. Many prominent educational institutes like UMT, UCP, COMSATS, UOL, Superior University and BNU are quite close to Dream Gardens Lahore which adds to the value of this project. Housing societies like Bahria Orchard, Dream Avenue, AWT Housing, LDA Avenue, Valencia Town, DHA Rahbar, and Lake City are in its vicinity.
COMPARISON:
If you are looking for plots on installment in Lahore, you must make sure that your research is on point. Buying 5 Marla plots in Park Avenue or 5 Marla plots in Dream Gardens without research is an act of stupidity and shows that one doesn't value one's hard-earned money. Park Avenue Housing Society and Dream Gardens, both are offering residential and commercial plots in the vicinity of Lahore city but differ greatly in amenities being provided as well as plot prices. Before buying 5 Marla plots on installment in any of these housing schemes, you need to realize that they differ a lot in what they offer and one is definitely a better option for investing in 5 Marla plots in Lahore than the other. In order to provide a better picture, the following is a comparison table for both societies so you can make a better and well-researched investment decision;
Park Avenue
Dream Gardens
LDA Approval
✅
✅
Project by
Musa Builders
Izhar Monnoo Developers
Location
2-minute drive from

LDA City interchange

Ring Road, Lahore.

10 minutes' drive from Shaukat Khanum Hospital
Commercial Plots
✅
✅
Residential Plots
✅
✅
Sewerage
✅
✅
Underground Electricity
✅
✅
Water Supply
✅
✅
Sui Gas*
✅
✅
Boundary Wall
✅
✅
Security Staff
✅
✅
Parks
✅
✅
Miyawaki Forest
✅
⛔
25% Land covered with trees
✅
⛔
*Park Avenue Housing Scheme is LDA Approved and thus will have a Sui Gas connection once 20% of the total number of plot holders begin to reside in the society.
RESIDENTIAL PLOT SIZES:
| | |
| --- | --- |
| Park Avenue | Dream Gardens |
| 3 Marla | 5 Marla |
| 5 Marla | 7 Marla |
| 6 Marla | 10 Marla |
| 8 Marla | 20 Marla |
| 1o Marla | 25 Marla |
| 1 Kanal | 30 Marla |
COMMERCIAL PLOT SIZES:
| | |
| --- | --- |
| Park Avenue | Dream Gardens |
| 2 Marla (Sector Shops) | 5 Marla |
| 2.6 Marla (Sector Shops) | 7 Marla |
| 5 Marla | 10 Marla |
| | 20 Marla |
| | 25 Marla |
RESIDENTIAL PAYMENT PLANS:
Park Avenue: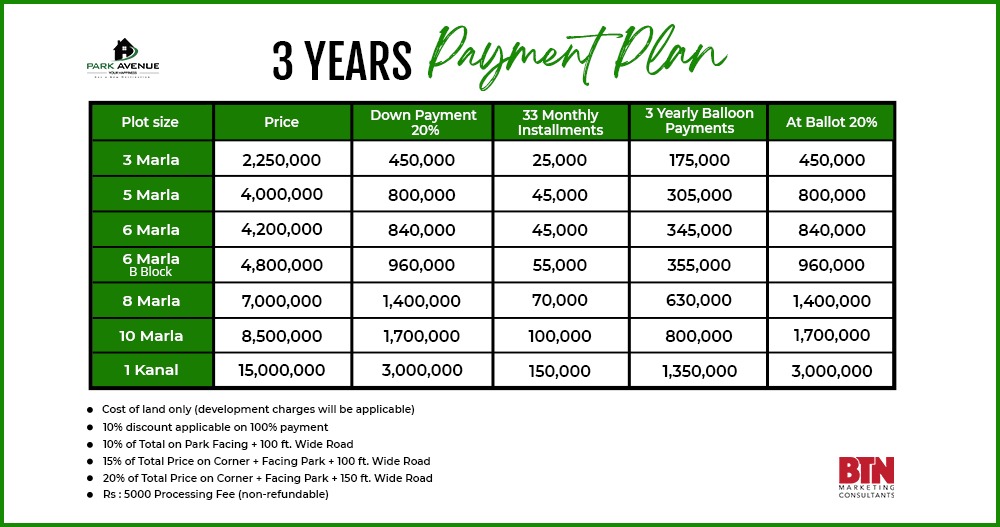 Dream Gardens:
COMMERCIAL PAYMENT PLANS:
Park Avenue: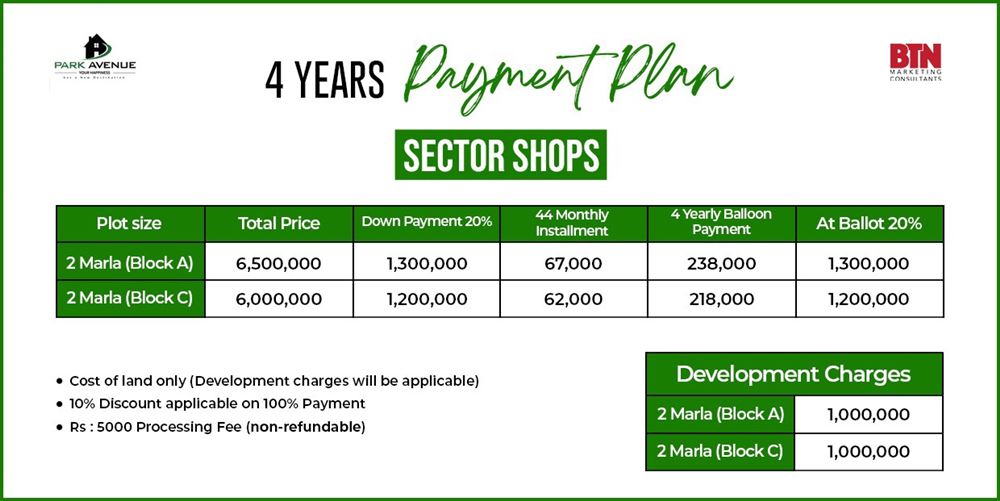 Dream Gardens: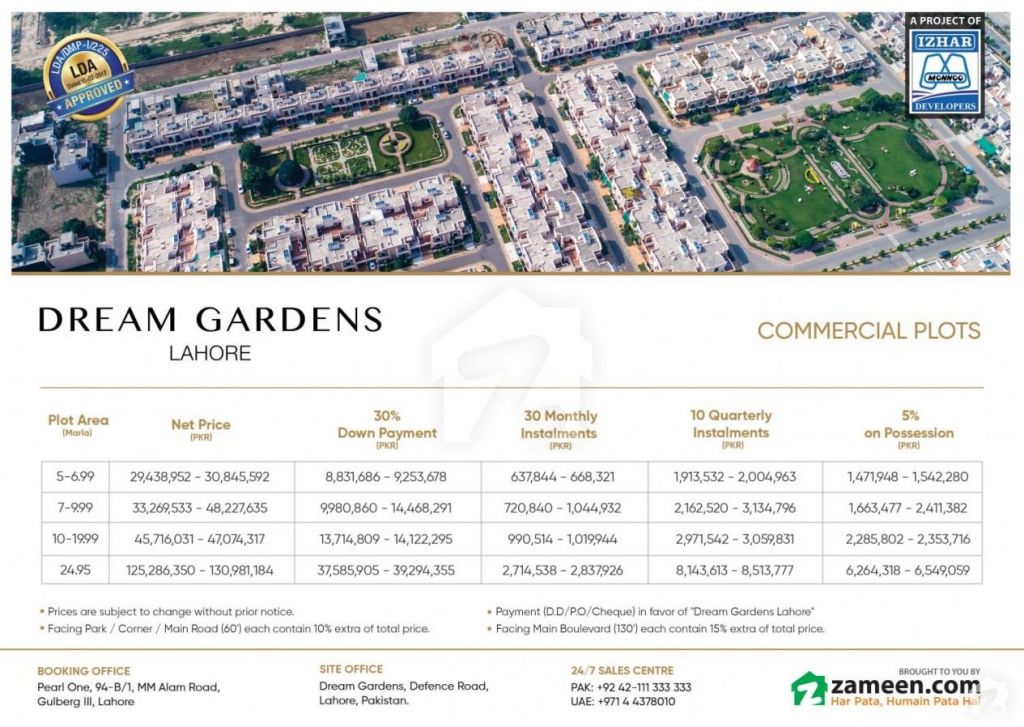 CONCLUSION:
When it comes to LDA Approval, both Park Avenue and Dream Gardens are LDA Approved. While Dream Gardens' NOC was impossible to find and our research team had to search for it on the e-Khidmat platform, Park Avenue's original scanned NOC is posted all over its social media platforms as well as the society website so that it is easier for potential buyers to access it. (https://parkavenue.pk/lda-approval/)
If your first concern for buying 5 Marla plots in Lahore is an LDA Approval, both societies are in the clear. However, there are a lot more things to look for when you are trying to find plots on installment in Lahore. You need to study the amenities housing schemes are offering and compare them before making a buying decision for 5 Marla plots on installments.
While 5 Marla plots in Dream Gardens and 5 Marla plots in Park Avenue, both will come with an LDA Approval, the payment plans of both societies differ greatly. From the table, you can easily see that both societies are on almost equal grounds in terms of the amenities they provide to a 5 Marla plot buyer.
However, Park Avenue offers 3 Miyawaki Forests. Park Avenue is easily one of the most green-friendly societies in Lahore. The society has a great 'Green Park Avenue' initiative to cover more than 25% of the society's land with trees. Right now, more than 60 thousand trees have been planted in society. One Miyawaki Forest has successfully been planted. Two more Miyawakis are in progress.
On top of this, Park Avenue's sewerage system is top-notch with separate storm channels. Moreover, the sewage pipes used in the system are made in society's in-house pipe manufacturing plant to ensure top-notch quality.
All in all, Park Avenue offers all of the features that Dream Gardens offers and then some. And when it comes to price comparison, PAHS is offering much lower plot prices than Dream Gardens making it a much better option to invest in. Therefore, if you are looking for a suitable option to buy plots for sale in Lahore, Park Avenue is your best bet.