INTRODUCTION:
Park Avenue Housing Scheme is an LDA-approved project with an approved layout plan offering both residential and commercial plots. It currently consists of 3 sectors along with an LDA Structured Road which runs through the society.
Located a mere 2 minutes' drive away from LDA Interchange, Ring Road, Lahore, Park Avenue Housing Society is truly the new destination for your happiness.
Just a 4 km drive from the Ring Road Halloki Interchange and a simple 15 minutes commute from the Allama Iqbal International Airport brings you to the gates of this stellar housing society which offers residential plots of 3, 5, 6, 8, 10 Marla, and 1 Kanal on easy installments.
Lake City is located at the Main Raiwind Road surrounded by a number of modern housing societies of Lahore. Lake City is easily accessible via Lahore Ring Road Interchange Adda- Plot. It is located a 5 to 8 minutes drive away from the Adda-Plot Lahore RRI. The development work of Sector M7 sub-blocks C1 C2 C3 C4 is underway.
COMPARISON:
If you are looking for plots on installment in Lahore, then you reaching this blog is a sign that you are doing your homework before making any decision. We appreciate your efforts and want to help you make a better decision for investing plots for sale in Lahore or on installments. For this blog, we will be providing you with a comparison between Lake City and Park Avenue Housing Scheme.
Buying 5 Marla plots in Park Avenue or 5 Marla plots in Lake City without research is an act of stupidity and shows that one doesn't value one's hard-earned money. Park Avenue Housing Society and Lake City, both are offering residential and commercial plots in the vicinity of Lahore city but differ greatly in amenities being provided as well as plot prices.
Before booking 5 Marla plots on installment in any of these housing schemes, you need to realize that they differ a lot in what they offer and one is definitely a better option for investing in 5 Marla plots in Lahore than the other. In order to provide a better picture, the following is a comparison table for both societies so you can make a better and well-researched investment decision;
Park Avenue
Lake City
LDA Approval
✅
✅
Project by
Musa Builders
Lake City Holdings Pvt. Limited
Location
2-minute drive from

LDA City interchange

Ring Road, Lahore.

8 minutes drive from Adda-Plot, Lahore.

Commercial Plots
✅
✅
Residential Plots
✅
✅
Sewerage
✅
✅
Electricity
✅
✅
Water Supply
✅
✅
Sui Gas*
✅
✅
Boundary Wall
✅
✅
Security Staff
✅
✅
Parks
✅
✅
Miyawaki Forest
✅
⛔
25% Land covered with trees
✅
⛔
*Park Avenue Housing Scheme is LDA Approved and thus will have a Sui Gas connection once 20% of the total number of plot holders begin to reside in the society.
RESIDENTIAL PLOT SIZES:
| | |
| --- | --- |
| Park Avenue | Lake City |
| 3 Marla | 5 Marla |
| 5 Marla | 7 Marla |
| 6 Marla | 10 Marla |
| 8 Marla | 12 Marla |
| 1o Marla | 14 Marla |
| 1 Kanal | 15 Marla |
| | 1 Kanal |
| | 2 Kanal |
| | 4 Kanal |
| | 8 Kanal |
COMMERCIAL PLOT SIZES:
| | |
| --- | --- |
| Park Avenue | Lake City |
| 2 Marla (Sector Shops) | 4 Marla |
| 2.6 Marla (Sector Shops) | 5 Marla |
| 5 Marla | 8 Marla |
RESIDENTIAL PAYMENT PLANS:
Park Avenue: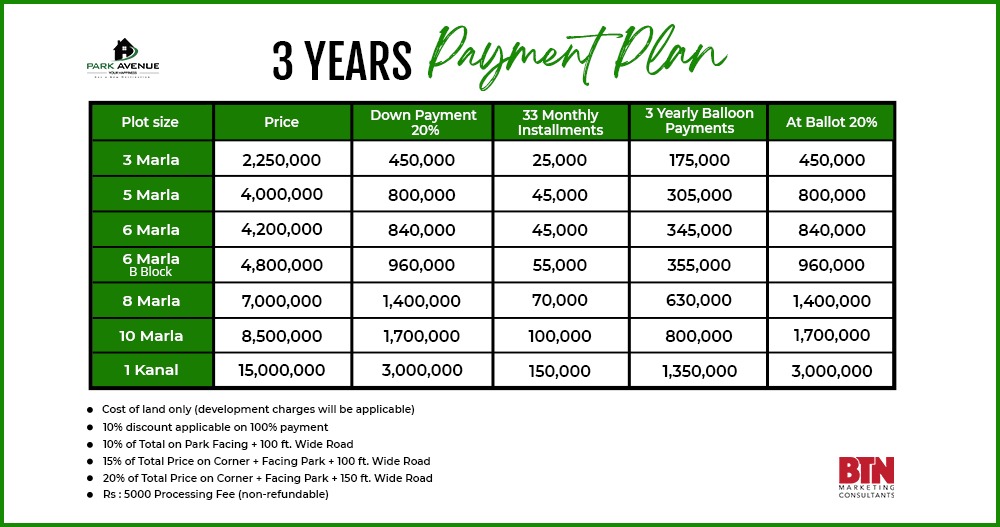 Lake City: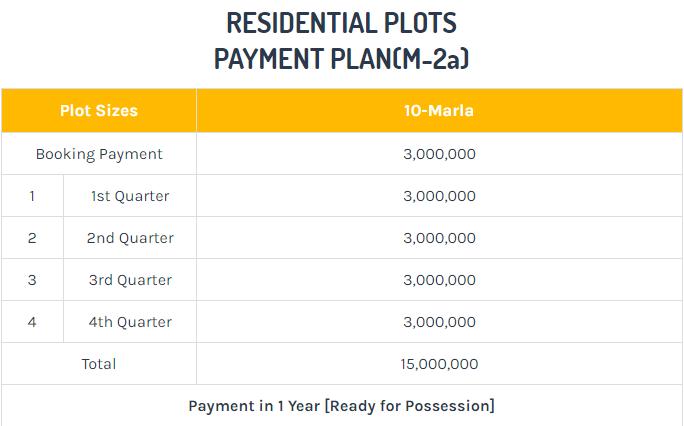 COMMERCIAL PAYMENT PLANS:
Park Avenue: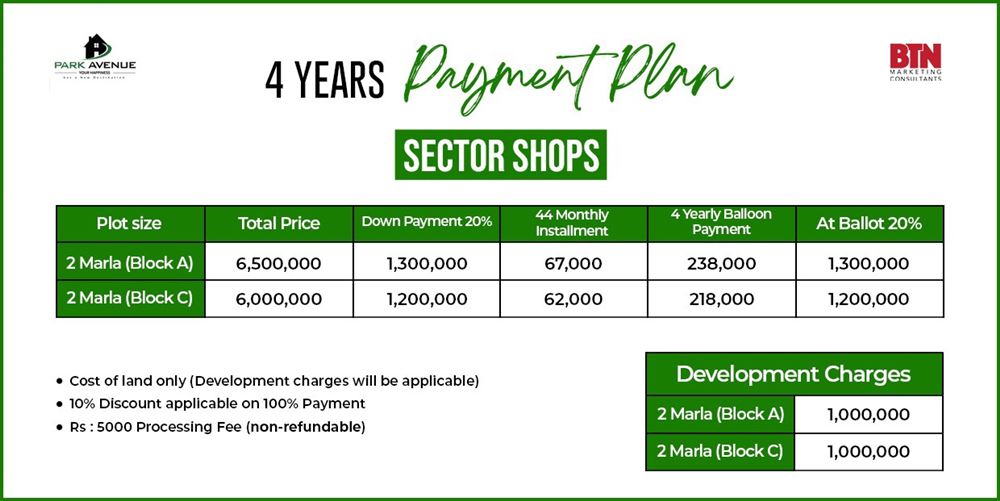 Lake City: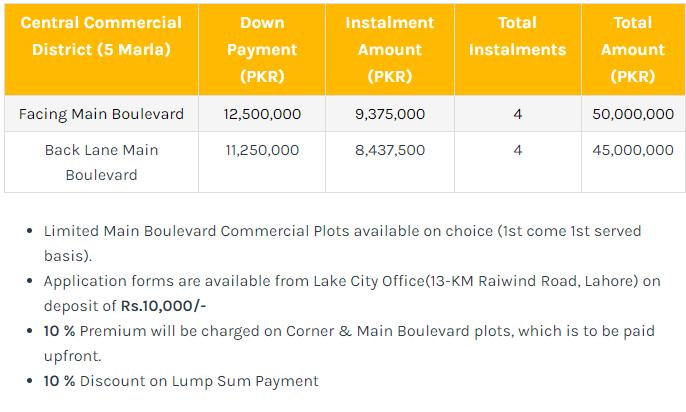 CONCLUSION:
Lake City claims to be completely LDA Approved on a few of its social media posts but there is not even a single mention of an LDA Approval on its website. Moreover, there is no NOC to be seen anywhere. So after a thorough research, we can confirm that Lake City is, indeed, LDA Approved. However, this is the modern age where everything is a click away. So making your potential customer jump through so many loops just so they can confirm if your claims of being LDA Approved are true or not, is ridiculous.
On the other hand, Park Avenue aces the legality department and flaunts it proudly on all of its social media accounts as well as its website. Park Avenue's original scanned NOC is posted all over its social media platforms as well as the society website so that it is easier for potential buyers to access it. (https://parkavenue.pk/lda-approval/)
If a society is not LDA Approved, access to Sui Gas is not possible for its residents. Moreover, even though illegal societies have electricity, it is not a proper connection and cannot guarantee proper voltage. This can damage your appliances and can prove to be a fire hazard. Moreover, illegal housing societies are vulnerable to being demolished by the government. Therefore, before looking for other amenities for buying plots on installment in Lahore, study the society's legal status.
If your first concern for buying 5 Marla plots in Lahore is an LDA Approval, both societies are in the clear. However, there are a lot more things to look for when you are trying to find plots on installment in Lahore. You need to study the amenities housing schemes are offering and compare them before making a buying decision for 5 Marla plots on installments.
While 5 Marla plots in Lake City and 5 Marla plots in Park Avenue, both will come with an LDA Approval, the payment plans of both societies differ greatly. From the table, you can easily see that both societies are on almost equal grounds in terms of the amenities they provide to a 5 Marla plot buyer.
On top of this, Park Avenue offers 3 Miyawaki Forests. Park Avenue is easily one of the most green-friendly societies in Lahore. The society has a great 'Green Park Avenue' initiative to cover more than 25% of the society's land with trees. Right now, more than 60 thousand trees have been planted in society. One Miyawaki Forest has successfully been planted. Two more Miyawakis are in progress.
All in all, Park Avenue is a much safer investment option in comparison with Lake City. Aside from the LDA Approval, which is extremely important, the amenities provided by Park Avenue and Lake City are all the same and Lake City is still a lot more expensive than Park Avenue. Therefore, Park Avenue's LDA Approval, similar amenities and affordable payment plans make it much more suitable for getting plots on installments in Lahore than Lake City.