INTRODUCTION:
Park Avenue Housing Scheme is an LDA approved project with an approved layout plan offering both residential and commercial plots.
It currently consists of 3 sectors along with an LDA Structured Road which runs through the society.
Ideally located amid the central city and its outskirts, Park Avenue Housing Society is truly the new destination for your happiness. A mere 3 km drive from the Ring Road Halloki Interchange and a simple 15 minutes commute from the Allama Iqbal International Airport brings you to the gates of this stellar housing society which offers both residential plots of 3, 5, 6, 8, 10 Marla, and 1 Kanal and commercial plots of 2 and 2.6 Marla.
Al Kabir Town is located at Raiwind Road Lahore. Society is divided into three phases I, II, and III. The plots are divided into several Blocks such as A, B, C, D, and E. Phase-I was launched in 2016, and apartments were launched in March 2017. After two months in May, Phase-II was launched, and then the latest Phase-III (Kings Town) was launched.
COMPARISON:
Looking for a Lahore plot on installments is a very time-consuming task which if not done with proper research, can end up with you losing your whole life's savings. Lahore's real estate sector is developing rapidly but due to lack of policies and government control, with this rapid development has come a rush of illegal housing societies. Even though Lahore is full of fraudulent societies out to make a quick buck at the expense of the hardworking salaried middle-class, there still are businessmen in the sector doing it the right way. Examples of such trustworthy housing schemes are Al-Kabir Town and Park Avenue Housing Scheme.
In order to provide a better picture, the following is a comparison table for both societies so you can make a better and well-researched investment decision;
Park Avenue
Al Kabir Town
LDA Approval
✅
Under Process
Project by
Musa Builders
Al Kabir Town Holdings Pvt. Limited
Location
2-minute drive from

LDA City interchange

Ring Road, Lahore.

8-minute drive from Adda-Plot, Lahore.

Commercial Plots
✅
✅
Residential Plots
✅
✅
Sewerage
✅
✅
Electricity
✅
✅
Water Supply
✅
✅
Sui Gas*
✅
✅
Boundary Wall
✅
✅
Security Staff
✅
✅
Parks
✅
✅
Miyawaki Forest
✅
⛔
25% Land covered with trees
✅
⛔
*Park Avenue Housing Scheme is LDA Approved and thus will have a Sui Gas connection once 20% of the total number of plot holders begin to reside in the society.
RESIDENTIAL PLOT SIZES:
| | |
| --- | --- |
| Park Avenue | Al Kabir Town |
| 3 Marla | 3 Marla |
| 5 Marla | 5 Marla |
| 6 Marla | 8 Marla |
| 8 Marla | 10 Marla |
| 1o Marla | 1 Kanal |
| 1 Kanal | |
COMMERCIAL PLOT SIZES:
| | |
| --- | --- |
| Park Avenue | Al Kabir Town |
| 2 Marla (Sector Shops) | 20×40 |
| 2.6 Marla (Sector Shops) | 2 Marla |
| 5 Marla | |
RESIDENTIAL PAYMENT PLANS:
Park Avenue: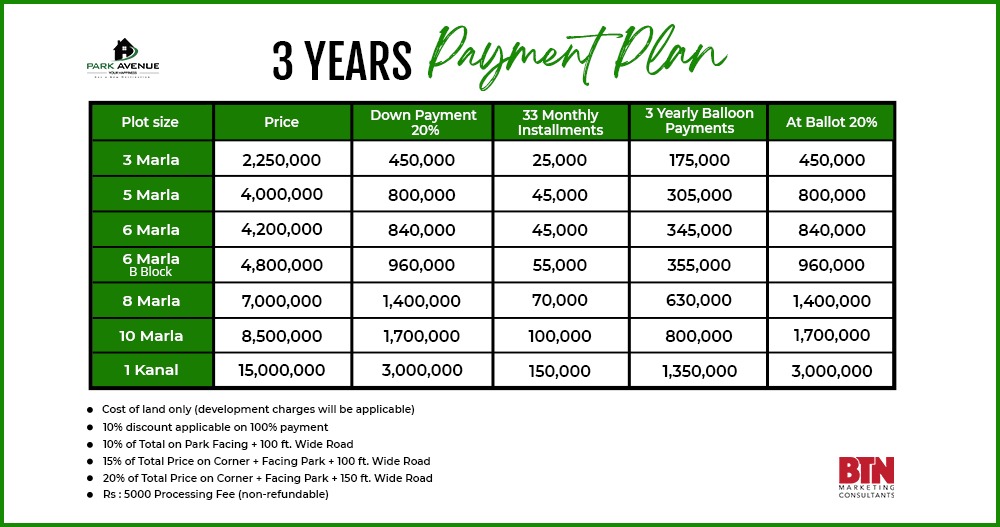 Al Kabir Town: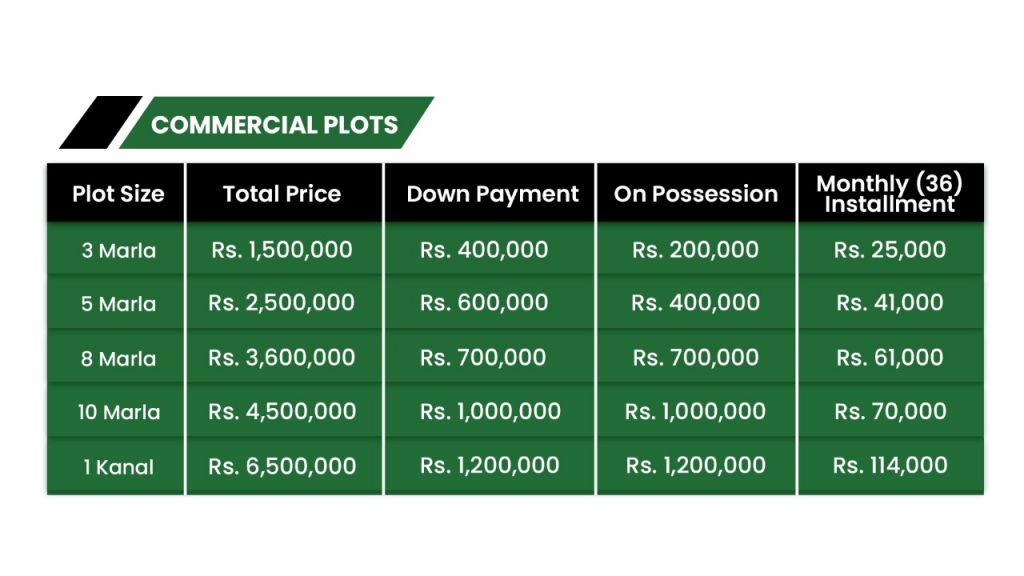 COMMERCIAL PAYMENT PLANS:
Park Avenue: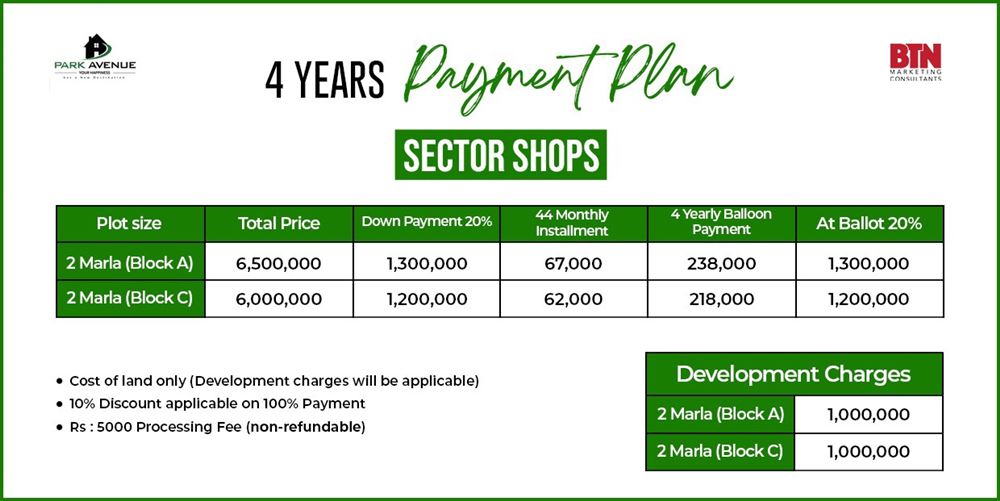 Al Kabir Town:

CONCLUSION:
Al Kabir Town claims to be completely LDA Approved on its social media posts and website. After some research, we have confirmed that Al Kabir Town is LDA Approved but not completely, as they updated their map a couple of years ago and their application for the new map is still under process.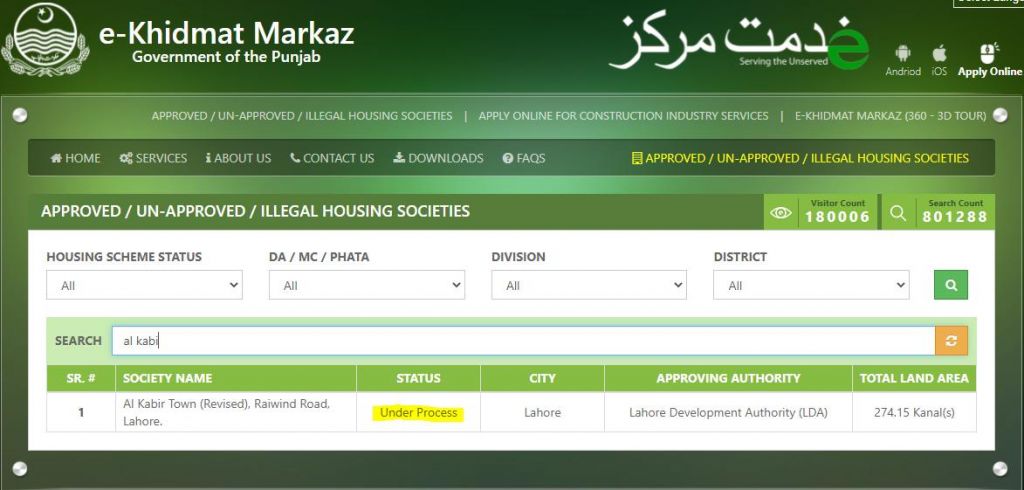 On the other hand, Park Avenue aces the legality department and flaunts it proudly on all of its social media accounts as well as its website. Park Avenue's original scanned NOC is posted all over its social media platforms as well as the society website so that it is easier for potential buyers to access it. (https://parkavenue.pk/lda-approval/)
If your first concern for buying 5 Marla plots in Lahore is an LDA Approval, both societies are in the clear. However, there are a lot more things to look for when you are trying to find plots on installment in Lahore. You need to study the amenities housing schemes are offering and compare them before making a buying decision for 5 Marla plots on installments.
The next thing to look for in a residential society if you want to buy a 5 Marla plot on installment in Lahore is the developmental pace. The most common type of fraud in Lahore's residential sector these days is that societies tend to build huge, gaudy gates and a few roads to lure buyers in. As roads and a gate seem to be the very first visible feature of a society's development for buyers looking for Lahore installments plots. However, this is a hoax and the housing scheme delays the rest of development work for years, even decades.
If you want to make a safe investment for a 5 Marla plot on installment in Lahore, then visiting all social media accounts of potential residential societies is part of your homework. While 5 Marla plots in Al Kabir Town and 5 Marla plots in Park Avenue, both will come with an LDA Approval, the payment plans of both societies differ greatly. From the table, you can easily see that both societies are on almost equal grounds in terms of the amenities they provide to a 5 Marla plot buyer.
The next feature Park Avenue offers to add to its status as the best housing scheme in Lahore on installments 2020 is greenery. Yes, lots and lots of greenery. Recently, Park Avenue launched one of the most ambitious and well-intended projects in its history, Green Park Avenue. 70 thousand trees have already been planted in the society's Miyawaki Forest. The forest covers 8 Kanal land of the society and will be developed to have a track as well as benches for residents.
All in all, Park Avenue is a much safer investment option in comparison with Al Kabir Town. Aside from the LDA Approval, which is extremely important, the amenities provided by Park Avenue and Al Kabir Town are all the same and Al Kabir Town is still a lot more expensive than Park Avenue. Therefore, Park Avenue's LDA Approval, similar amenities and affordable payment plans make it much more suitable for getting plots on installments in Lahore than Al Kabir Town.