Lahore is the second-most densely populated city in Pakistan. Retirees and the young generation tend to move to Lahore to experience a comfortable and luxurious lifestyle. Here are a few reasons why investment in Park Avenue Housing Scheme (PAHS) is secure and fruitful than DHA Rahbar Lahore, Bahria Orchard, Central Park etc.
If you are looking to build your dream house in the provincial capital, then you must have considered and visited DHA Rahbar which is also known as DHA Phase XI. As we all know DHA is the most secured and reliable name in the real estate industry of Pakistan.
If you are investing in an LDA-approved housing project; you are securing the future of your children. Government Departments like Water and Sanitation Authority (WASA), Environmental Protection Agency (EPA), Traffic Engineering & Transport Planning Agency (TEPA) LDA, Irrigation Department; Lahore Waste Management Company (LWMC), Lahore Electric Supply Company (LESCO), Punjab Housing and Town Planning Agency (PHA), Railway; Revenue Department, and LDA Engineering Wing act as a guarantor of an approved private housing scheme. If we talk about PAHS, it is a 100% LDA Approved Project bearing NOC # DMP-II/5920.
Bahria Orchard is not LDA Approved Project. If you invest in this project, your hard-earned money will be wasted.
https://parkavenue.pk/lda-approval/
Plots on installments in Lahore
DHA Rahbar offers a 5, 8, 10 Marla, and 1 Kanal plot on cash. DHA Rahbar plots on installments are not available now. In DHA Rahbar, 5 Marla plots for sale are available between 5 to 6 million. Whereas, DHA Rahbar offers 8 Marla plots for sale between 7.5 to 10 million, depending upon the location.
If you are a salaried or middle-class person and don't have the budget to purchase DHA Rahbar plots then you should consider Park Avenue. Because it offers residential plots on easy installments. You can purchase 5,8,10 Marla and 1 Kanal residential plots on 3 years installment plan. It is a 100% LDA Approved Project bearing NOC # DMP-II/5920. Here is the payment plan of Park Avenue Housing Scheme Lahore.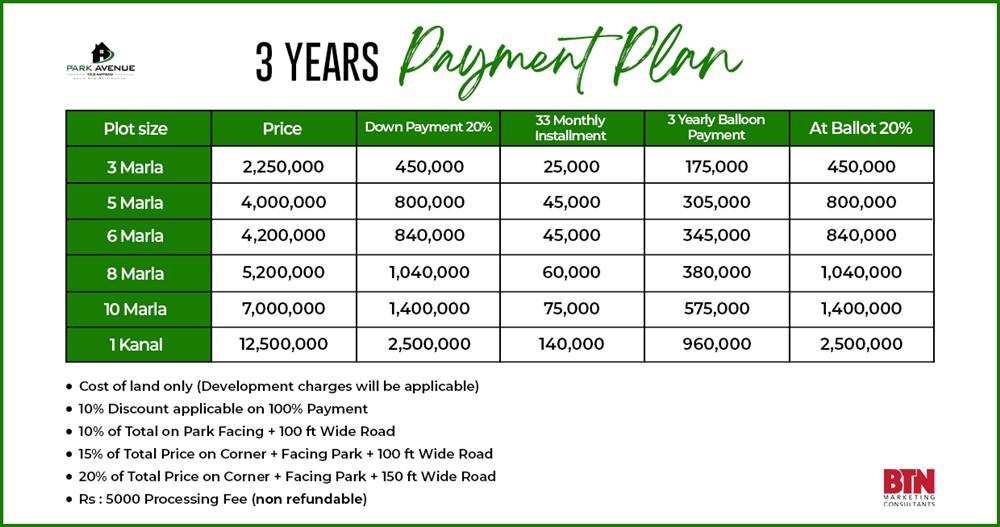 In Bahria Orchard, you can get plots on cash. Only Bahria Orchard Phase 5 offers plots on cash.
DHA Rahbar is located at the main Defense Road near Ring Road, Ferozpur Road, and Raiwind Road. On the contrary, PAHS is situated at Jia Bagga Road, opposite Lake City. You can access Ring Road, Raiwind Road, and Ferozpur Road within a few minutes from PAHS as well. DHA Rahbar Lahore and PAHS are located at ideal locations but Khayaban-e-Amin, LDA City Apartments, Lake City, and Chinar Bagh located on Jia Bagga Road add more value to PAHS. On the other hand, Bahria Orchard is located on Main Raiwind Road.
In conclusion, if you are looking to purchase a residential or commercial plot in Lahore, then PAHS is a wise choice and a secure investment. Because of its ideal location, LDA Approval and easy payment plan.