PAHS is a residential cum commercial project is spread over a 1785.65 Kanal, LDA approved housing society, in Lahore. PAHS is at a distance of 2.5 Km from the Lahore Ring Road Halloki Interchange (linked to the N-5 National Highway) and a 15 minute drive away from Allama Iqbal International Airport.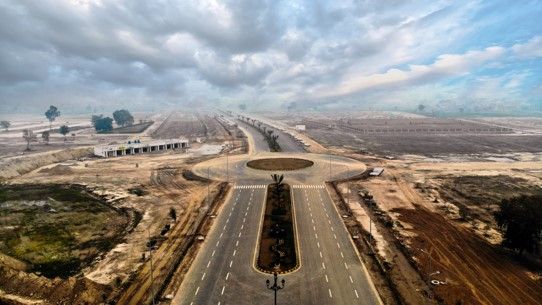 PAHS is hitting developmental benchmarks one after another. Before the construction of the 150 ft. Main Boulevard, drainage lines on both sides of the road were installed to manage stormwater. These drainage channels were tested properly to ensure proper functioning and to avoid future inconvenience. Underground electrification is the key in a modern housing society with high quality wiring and that's exactly what we have gone for on the Main Boulevard.  150ft. wide and 1.5km long Water Bound Macadam (WBM) Main Boulevard has been carpeted till the end (on approx. 4500ft.).
WBM is a road pavement base course made of crushed stone aggregates interlocked by rolling them together then bounding them with filler material and water. It is the layer between the sub base and wearing course. We chose WBM because it is considered a high quality road due to its compacted mass. In the future, it is expected that this boulevard will provide PAHS with access to Raiwind Road and Ferozepur Road.